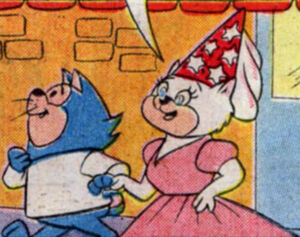 Miss Kitty Cat is a Top Cat comics character.
About Miss Kitty Cat
Kitty Cat is a movie star. When she was the guest of honor at the Annual Feline Costume Ball, The Gang all wanted to go see her, but could only afford to buy five tickets, so Benny was left behind. Determined to catch a glimpse of her, he stopped by the Ritz Hotel. There, her date twisted his ankle, so she asked Benny to escort her and spent the night dancing with him.
Appearances
Ad blocker interference detected!
Wikia is a free-to-use site that makes money from advertising. We have a modified experience for viewers using ad blockers

Wikia is not accessible if you've made further modifications. Remove the custom ad blocker rule(s) and the page will load as expected.