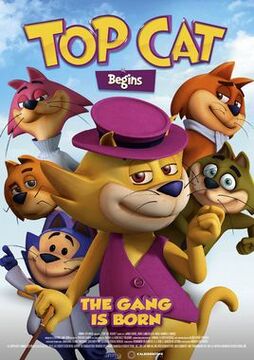 Top Cat Begins (also known in Spanish as Don Gato: El Inicio de la Pandilla, literally Top Cat: The Start of the Gang) is an Mexican-Indian [1] computer-animated comedy film, produced by Anima Estudios and distributed by Warner Bros. Pictures in Mexico.[2] Based on the animated television series, Top Cat, created by Hanna-Barbera, this film is a prequel to both the series and the movie, taking place before Top Cat met his gang.[3]
Plot
The film will be an origin story, explaining how Top Cat met Benny and how he created his gang. Top Cat has arrived to charm his way into your hearts! Ever wonder how this scheming feline got his start? Well "Top Cat Begins" reveals the origins of everything you know and love about this classic comedy hero. From the discovery of his trademark hat, to his first run-in with Officer Dibble, to the gathering of his loyal gang, this rip-roaring comedy answers it all! And what use, and what fun, would his wacky band of misfits be if they couldn't help get him in and out of trouble? Like Top Cat's "smartest idea"; relieving Mr. Big, the city's most dangerous kingpin of crime, of his precious diamonds. What follows is an adventure so crazy that it has to be seen to be believed![2]
Characters
Main characters
Supporting characters
Villains
Cast
Production
Variety reported that the film's producer, José C. García de Letona, is working on a sequel.[4] He said that the sequel will be "slightly more edgy and contemporary".[5] Fernando De Fuentes, chairman of Anima Estudios, also explained that film is "the most ambitious project in our studio's history."[2]
Animation
Unlike the previous film, which was animated in 2D Adobe flash, the film is animated entirely in computer-generated imagery, according to producer Jose Garcia de Letona.[2] Animation production is being handled by Discreet Arts Productions in India.[1]
Writing
The film's screenplay is written by James Krieg,[1] known for writing the Scooby-Doo! television shows, Doug Langdale,[1] and Jorge Ramírez-Suárez.[1]
Casting
The voice cast is currently unknown, however, the casting will be "exhaustive", since the death of Jorge Arvizu (the Spanish-language voice of Choo-Choo and Benny).[6] For the English version, Jason Harris Katz, the voice of Top Cat and other characters from the first film, has announced via his Twitter that he will reprise his role as the same character.[7] Also returning is Actor/Comedian Bill Lobley in the role of Officer Dibble.
Release
The film's Mexican release trailer premiered on 1 July 2015.[8][9] The film was released in Mexico on October 30, 2015.
Gallery
Images
Videos
References
↑ Cite error: Invalid <ref> tag; no text was provided for refs named conaculta-dongato-begins
↑ Cite error: Invalid <ref> tag; no text was provided for refs named VarietyAnimaBegins
↑ Mexican animator adds English - Entertainment News, Animation, Media - Variety Variety. December 1, 2012. James Young
↑ Cite error: Invalid <ref> tag; no text was provided for refs named cinepremiere