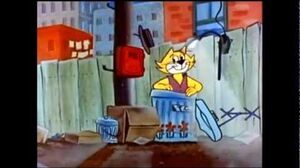 The Top Cat theme plays at the beginning and end of every episode of Top Cat.
Lyrics
Top Cat, the most effectual
Top Cat, whose intellectual
Close friends get to call him T.C.
Providing it's with dignity

Top Cat
The indisputable leader of the gang
He's the boss, he's the pip
He's the championship
He's the most tip top
Top Cat

Yes he's the chief, he's the king
But above everything
He's the most tip top
Top Cat

Top Cat

(Repeat)
Ad blocker interference detected!
Wikia is a free-to-use site that makes money from advertising. We have a modified experience for viewers using ad blockers

Wikia is not accessible if you've made further modifications. Remove the custom ad blocker rule(s) and the page will load as expected.